Written by
Pavan Kumar

on

August 14, 2009

Advertisements

Everyone know about reverse phone search and reverse search of server. Did you even hear about reverse image search? Recently we discussed about image hotlinking protection and introduced with methods to save bandwidth and protect images. Recently I found a reverse image search engine which help you identify if someone is using your images on their website without permission.
TinEye is the reverse image search engine which help you identify all copies of original image spread over the entire internet. Till now this is the only image search engine I have seen of its kind. This is lot helpful in many ways especially if you run a photography website / blog. People work hard to capture / design such wonderful designs, wallpapers or photos and few users simply steal them without the knowledge / permission from the owner.
With TinEye, you can up to some extent identify if someone is using your images without permission. Though the database / cache of this is quite small, the way this image search engine work is a step ahead of all other search engines. This not just depend of image name, alt tags or title tags, but compares the exact image based on its characteristics and sorts out the results based on best match. This can identify exact copy of images, varied resolution/ resized images, cropped images, tilted or edited images, but don't expect it to make face recognition.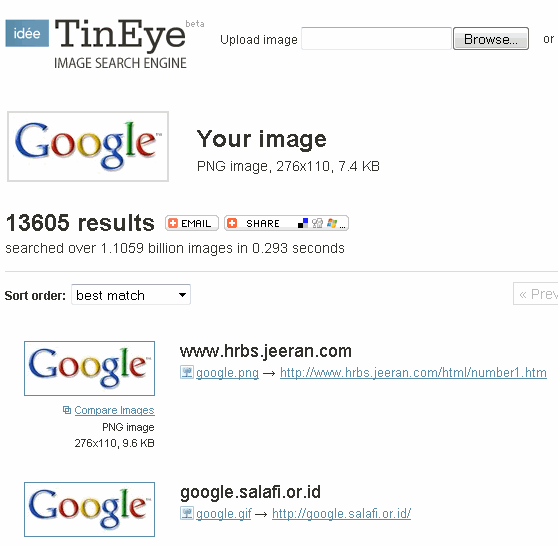 If you are a webmaster, you may add your website into its database to crawl also you can block its bots by using robots.txt. For more details about the features and detailed information, check out FAQ page. They also have a Firefox addon for interested users.
Also read: Fun photo editors, Create mirror images
People who liked this also read: