Written by
Pavan Kumar

on

October 1, 2008

Advertisements

The internet is motivating techpavan.com to provide more updates with mobile phone, sms and related stuffs. Right since the beginning with our GET ON MOBILE series, all sms / mobile related posts are attracting more visitors. Starting from get orkut scrap as sms to the most recent receive and send e-mail through free sms including group chat services got a good number of hits here.

Today, even after orkut introduced mobile option in the settings, getting orkut scraps as sms with MyToday stands first on the popular posts list. But one thing which I was very keen looking forward was that the total recovery of MyToday – including all features which it had formerly. But to be frank, that method do not work any more, but we still have a hope! Yeah, after MyToday got an ?p???dn ( ❓ ), all feed update service from them stopped.

No worries from now! Google God has started a service which compensates the lack of MyToday. Google sms channels is up! Here I am discussing two very important things I am very much passionate about and I always dreamt of in any sms service.

1. Getting feed updates on mobile: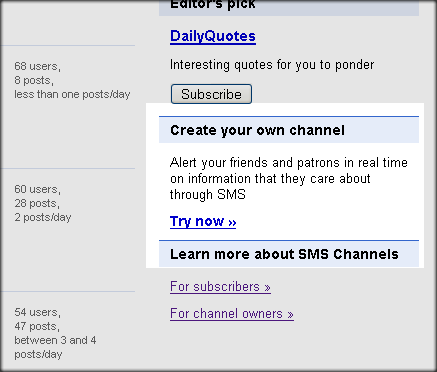 For this, you need to create a new channel, by clicking on Try Now link under Create Your Own Channel subheading.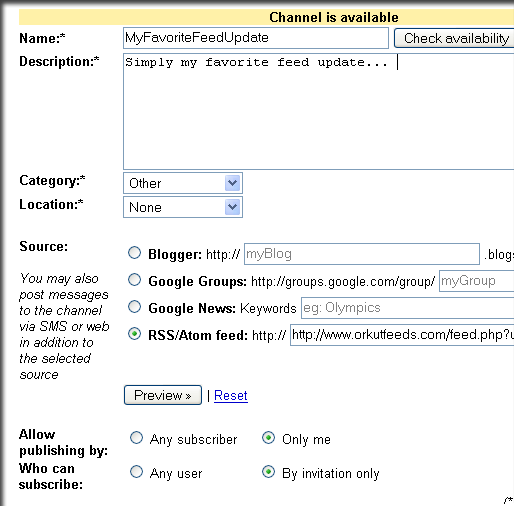 You will be lead to a channel creation page, key in the name you want to use for your channel and check if it is available, if not, pick other. You have to enter the description, category and location for your feed update. If you are not using any feed which would be useful to others, or if it is personal like orkut scrapbook feed or so, you may choose subscription method as By Invitation Only. And publisher – by default it is only you, no need to change that. That's it! Simple, you will get further updates delivered to your mobile phone.

2. Group Chatting:
Just a small change in setting, don't add anything in the Source field. And publish rights given to all subscribers, and subscription options based on your wish – public or private. If you are a group of friends, better to choose private, if you are looking for sms marketing, pick the public category and get more subscribers.
ALERT: Though the google sms channel number is a 10 digit number [ +91 9870807070 ], it is not like vakow or MyToday, you will be charged higher than normal sms. For me [Spice, Karnataka] – it costed Rs.0.50.
So, I don't recommend you to go for group chatting with this, but for feed updates – no other option than super google.
NOTE: Google SMS Channels are currently only available for India.
Few attractive features with Google SMS Channels:
Do Not Disturb feature for a particular time of the day – you can set up at what time you should not be disturbed by sms.
Control over maximum number of sms you receive per day.
You can change your nick name, which was impossible with MyToday.
Change the mobile number you use without changing the account details or subscriptions.
All operations you can perform on web have alternate sms commands so that you can control anytime.
Now what? You can be updated with the latest happenings all around by subscribing to different available channels already available there on sms.
People who liked this also read: