Written by
Pavan Kumar

on

September 4, 2009

Advertisements

Internet marketers and webmasters who are into domain business always look for new domain names so that it can be flipped at a higher price. Mostly the domains in current hot discussion go for a high price on auctions or otherwise the domains with keywords which are of all time interest to the public.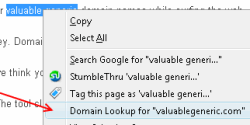 If you are one among such domain investors, this Firefox addon may become your next friend and assist you to fast lookup your favorite domain name. Domain Lookup is a Firefox addon which integrates the option to search domain names to the FF context menu. While reading any textual data online, you can just select a part of text with mouse, right click on the same and find domain availability with your registrar. It is similar to Firefox translation addon.
Coming to options with the addon, you can select which all the TLD's you would like to search for and with which registrar you want to make the search. By default GoDaddy is selected and you can choose any other registrar in case of need. They also provide keyboard shortcut which can help you to make fast searches.
This is an ideal tool for those who use keyword domains as they can easily launch the domain lookup service right from their web based keyword tool.
Note: You may require a compatibility hack as addon is not working on latest Firefox versions.
Also read: $5.49 .com domains, .TEL domain names, Register .com, .net .org free domains for year
People who liked this also read: