Written by
Pavan Kumar

on

February 19, 2008

Advertisements

gTranslate, a firefox addon, can translate a certain part of text say some three words immediately. Just you need to select the set of words to be translated and right click on the word, and move the mouse pointer over the Translate "%text%" tab to get the translated version of the text selected. This addon uses the Google translation service for translation. Few of the popular international languages are supported.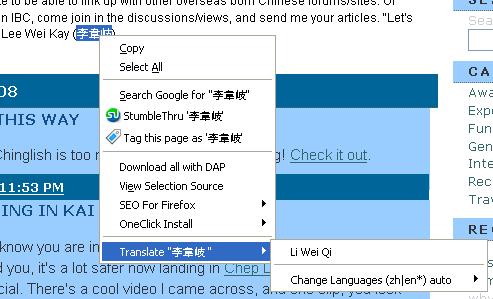 The above is a snap of a Chinese website in which an English word is written and in brackets they have written the Chinese equivalent. You can notice the translation as LI WEI QI for a standard translation given by site is LEE WEI KAY.
The translation may be done even for large context, but you need to click on the translate, which leads to the google language tools page, where anything can be translated or even a whole page can be translated.
You can install the addon from Firefox addons site here.
People who liked this also read: