Written by
Pavan Kumar

on

July 3, 2009

Advertisements

The most common type of services come to our minds when we hear of the word proxy are the anonymizer services. Even there is another way of accessing the internet with proxy servers. If you have used anonymizer services, they are usually simple websites with an easy user interface and lot of annoying popup ads which help you browse through blocked websites and services. If you don't know about anonymizers, have a look at twitter proxies, you will find a list of such free services.

Now, coming to the proxy type which I want to discuss now. They are proxy servers with which we access internet through different softwares / browsers. You can see such a use in Last.fm hack.
Why to change proxy on firefox for browsing?
There are many reasons why we use proxy – main reason being when websites are blocked. Using an anonymizer service is very easy compared with this way. Still I find one particular reason why we should use this kind of proxy configuration on browser. This provides same functionality of anonymizer to access blocked websites, but there is one difference between them – such services modify the originality of every link on the website. Any blogger / webmaster using advertisements would like to analyze the ad behavior on their sites. I have seen some ad networks foul play with users by putting popups and popunders for the locations which does not come under the users' location (I have seen that once in the past). And many networks monitor the url on which the ads are placed. If I apply for techpavan.com then some companies won't serve ads if I put my ads on any other domain – also not on google translate, cache etc.
Here comes the reason – if I use proxy site for browsing – ads may not be served – but still I want to see how my ads behave in other geo locations. This is why configure firefox for proxy browsing.
How to configure proxy on firefox?
Its quite a simple step. Search for free proxy list on Google and pick out a working proxy in the location you desire. Take care that you pick up an anonymous or high anonymous proxy – not the transparent one.
1. On firefox, open Tools > Options > Advanced > Network
2. Under Network – Connection > Click Settings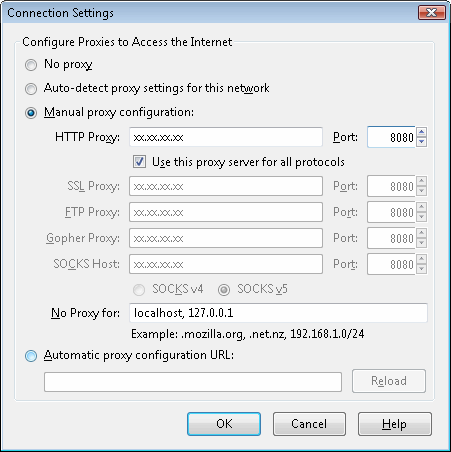 3. Click Manual proxy configuration – enter the proxy server address you obtained from the first step.
Note 1: This way you can browse any website even if your ISP blocks that website without requiring to visit any proxy web service.
Note 2: Proxy servers used here do fail after some time and its required to change it to working one every time you use.
Also read: How to unblock torrent and download at office
People who liked this also read: