Written by
Pavan Kumar

on

September 22, 2009

Advertisements

For those who use a widescreen monitors for regular online activities, internet brings a weird feeling as most of the sites are made best for standard 1024*768 screens. Though gaining that resolution is not possible, a nearby ratio can improve your browsing experience.

One way to improve visual area is by hiding Firefox title bar which can make use of unused title bar space on Firefox. Recently I discovered another FF addon which helps you in the same way but at an opposite end. Now, I am talking about hiding the status bar which is mostly of no use for many internet users. Though webmasters might find it useful for other addons, normal end users have no value of status bar.

autoHideStatusbar [https://addons.mozilla.org/en-US/firefox/addon/1530] is a FF addon that helps you hide your inactive useless status / loading bar when it is not in use. The addon has multiple options to help you choose when it needs to be displayed and when should it be made hidden. This also has filtering options for specific sites. Also, you don't need to bother while you visit a site, the default option is to display the status bar when you hover on a link for 1s which you can set to show always or when pressing Ctrl.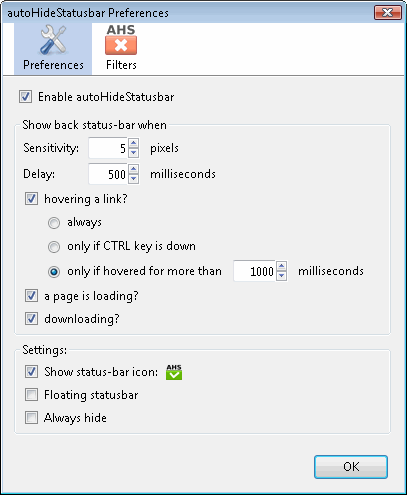 This is a special gift for those who use small screen notebooks / netbooks as those have the least viewing area and some unneeded portion is being occupied by FF default toolbars.
Also reading: Setting proxy on Firefox, Control image blocking in Firefox, Firefox crashing solution, Trick to use old version firefox addons
People who liked this also read: