Written by
Pavan Kumar

on

May 4, 2009

Advertisements

Almost every internet freak who is interested in music, audio or listening to free online radio is mostly aware of Last.fm. Last.fm is a free online radio with loads of music and was free for a long time. Recently they announced that users outside US, UK and Germany need to pay a subscription fee of $3 to listen to online radio. This is a bad news for music lovers online and here I have provided a way to hack last.fm.

If you love their service, please subscribe them by paying. If you are a new user, you may use this way to test their service, and if you love it, please purchase. To make it clear, this is not a hack, but I am making use of an available feature in order to clear the blocked way of accessing the free service.

Pick an anonymous proxy server from US / UK / Germany [these are the locations where last.fm is free now] from this proxy list. Note that this is not same as twitter proxy.

Open Last.fm client. Tools > Options > Connection.

Now, choose the manual setting and paste the proxy detail from the list.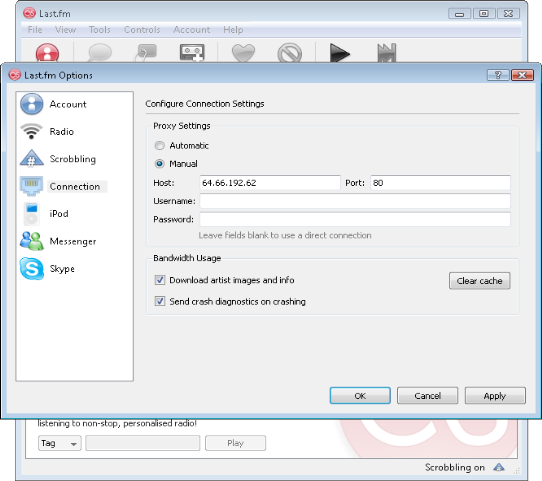 Done. You are now anonymising yourself as a user from that country and hence the last.fm servers serve you with free online internet radio.
Note: This tutorial is for education purpose, please purchase if you are not included in free region. Alternatively you may use free internet radio with winamp.
People who liked this also read: