Written by
Pavan Kumar

on

October 3, 2009

Advertisements

There are many times you would like to watch TV channels for free online in live streaming. There are many websites which serve for live broadcast of important international channels, but most such services are paid and those which are free won't work all the time and many a times, you will see them out of service.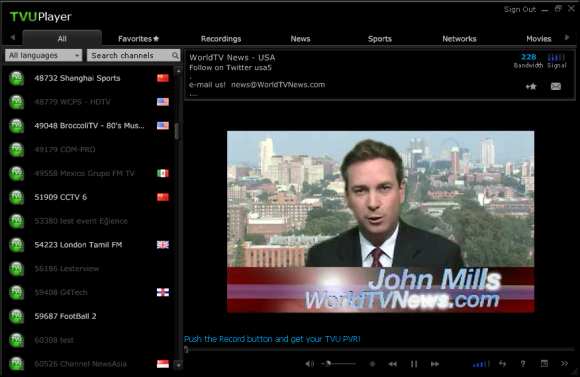 If you are interested to watch TV channels online for free, TVU networks is the best service for you. If you want to watch free TV channels online, you need to download their free TV software called TVU Player which is available for free download. Download, install and run the free TV software and you will be able to select which language channels you would like to tune into and get a long list of available in your language. You can not just watch international channels, you can watch any channel from any language of any country without any bounds or fees.
You can also make use of the channel search feature available with the software which enables you to search any available TV channel if you know the proper name. There is also an option to browse through different TV channels based on its category – like sports, news, movies etc.
It is also possible launch your own TV channels with the help of TVU network broadcasting all time with content which can vary from your own shoot of tourist / home video or the series of your favorite movies. All you need is just a high speed internet connection. You can also monetize the video broadcast with TVU and make some handsome money if you channel gains popularity.
TVU Player is available for Windows and Apple Mac and TVU Broadcast software is available for Windows and Linux, but you can try to run Windows software on Linux / Mac.
Also read: Listen free internet radio, Last.fm trial version trick, Convert Windows movie maker project video, Free video format converter
People who liked this also read: