Written by
Pavan Kumar

on

September 10, 2008

Advertisements

There are many ways for online entertainment. There have been many discussions related with streaming internet music or streaming video all over the blogosphere these days. Every such discussion included either sites which serve internet radio or some softwares which you need to listen to music. Here I am going to share with you the technique I use regularly to listen to free music online.

You don't need to buy any software or don't even need to install another freeware/ shareware available online. Just use the 24 * 7 running [at least on my system] winamp to listen to internet radio stations. No need to spend any extra system resource for that!

Any version of winamp above 2.5 is ok for this. For playing internet radio, you need winamp playlist files [.pls extension] related with those stations / channels. You can get these files from SHOUTcast directory where you have option to search for radio stations of your choice.
When a radio station of your choice is found, just click on "Tune in" button at the left. Download window opens and you download it, open in Winamp. That's it!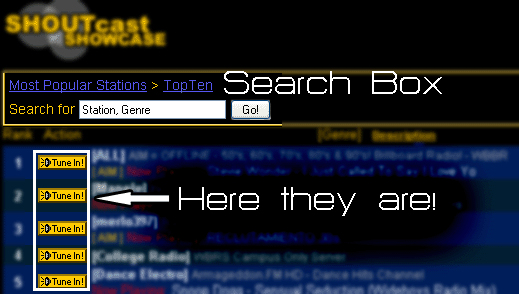 While choosing, its wise to pick the ones with a better bitrate of around 96kbps to 128 kbps. They provide you with better quality of sound. Even, you may sort the search results by bitrate.
There are different genre available on the site like alternative, classical, country, dance/house, funk, jazz, metal, mixed, pop, rap, RnB, rock, talk, techno, 70's, 80's and world. The wisest way is to search by yourself.
People who liked this also read: