Written by
Pavan Kumar

on

April 17, 2009

Advertisements

After learning the free online image editor let us move towards making funny photos with funny photo editor tool which is available as free web 2.0 application online. Today I got a wonderful tool which I wish should have got it before April 1st so that I could use it to make April Fools Pranks. Anyway, I have tried many online tools as well as desktop applications to make fun photo effects into existing images. This tool is definitely a gift for those who look to make fun of friends and family.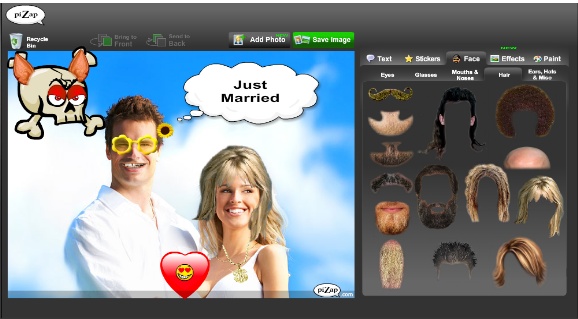 The important thing with this tool is that you get lots of effects and styles to put on photographs. For test purpose, I used a demo image available at the gallery and found the tool really worth give a try. I have also tried different software tools available online, they all are sharewares and trials have limitations in features and also limited in the days of usage. This is better than any of the others I tried and also a very easy solution.
Coming on to features, you can add custom texts with different shapes for dialogues, or ready phrases in different styles, hair styling effects, stickers, emoticons, funny images, greek symbols etc as "extra fittings". If you want to edit existing face with more effects, you can add pre configured hair styles, sunglasses, mouth, nose, ears and eyes. You can also give photo effects like dim light, shades, color blends with the color blending according to your wish. You can also use the available pencil tool to write whatever you want.
You can try out this tool at piZap Image Editor webpage.
Check out here if you want to make funny custom campaign signs with medals, bills, prescriptions, road signs.
People who liked this also read: