Written by
Pavan Kumar

on

March 19, 2009

Advertisements

404 errors on your website plays an important role of high priority when you speak in terms of SEO. Here we have got a wonderful plugin which mails you all the time when a 404 error occurs on your blog. This helps you to identify the urls and referrals which are generating 404.

To get notified, you need to install plugin which is the same usual procedure of copying the plugin file, activating and just one setting to include your mail id into the notification and also enable mail notification. If you don't want your inbox to be hit with emails, you can have the RSS feed of 404 errors on your blog.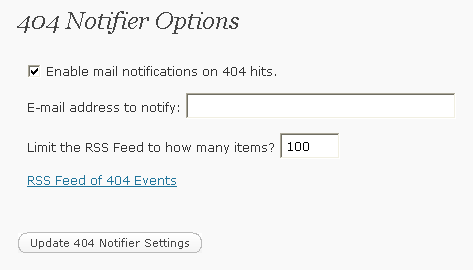 How can this improve my SEO?
Well, let me tell you one thing, you will get referrer url and the url which results 404. Now, you can add a 301 redirect to the proper page and save your traffic as well as SEO.
Any Shortcomings with this WordPress plugin?
Yes, as the author Alex King himself says, it wont work with the default type of permalinks. i.e., the permalinks of the form ?p=123 etc. Well, this format is not at all used for any legit blogger.
What extra is needed to improve our SEO?
This plugins work well for on site SEO, but for off site SEO, we need an email notifier when some outgoing link result in a 404. Well, we have different programs, but they just won't work well. I hope any developer will think of this.
You can download 404 notifier here.
People who liked this also read: