Written by
Pavan Kumar

on

March 6, 2008

Advertisements

If you blog walk regularly, you might have observed the general RSS feed button for subscription. Many of the bloggers provide an option to subscribe to their posts through e-mail but few of them don't. If you want to read all the feeds on your favorite reader application, it is not going to alert you in any way regarding a new feed item. Here I am going to discuss few free and best services which can alert you when a feed is updated.

1. Yahoo! Alerts: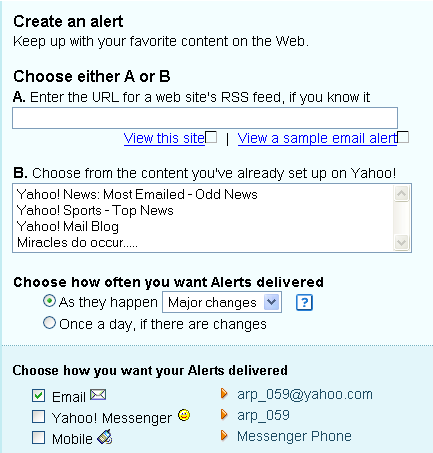 Yahoo, the #1 traffic site provides this service. You can access the service at the alerts alerts page for feeds. You need to provide the url of the feed and set your preferences and save the alert.
It is very simple to use, and you are provided with options to set the amount of feeds you receive. The options provided are:
Major changes: Any text changes (Some alerts)
Any changes: Any text or image changes (More alerts)
Just new items: Updated items are not resent (Fewest alerts)
And you may receive alerts on:
E-mail – your Yahoo! mail id.
Yahoo! Messenger – IMs you on updates.
Mobile – Use your mobile device associated with messenger or any mobile device which you have registered with Yahoo!
Yahoo! Mobile do not support my mobile which is a Sony Ericsson handset using Spice Karnataka network. The same device is supported by Y! IM, but I did not get any alerts on my mobile phone till now. May be that they include all networks soon.
2. RSS FWD – RSS straight into your email inbox:

The major advantage of using this is that it do not require you to sign up. Just provide them the url, your email id and that's it. You're done!
They provide you options to set the frequency of email. You may receive emails as the feed updates, or individual emails under one thread per day for G-Mail users or a single email per day which includes all updates that too as you wish – morning, afternoon, evening, night.
They have stated in privacy policy that your mail id is safe with them. You may find their updates in their blog.
3.Feed Crier :: RSS and Atom feeds by instant message:
This service provides instant alerts – but only through messenger. The messenger clients supported are AIM, MSN and Jabber/G Talk. You don't need to sign up here, just key your messenger id, choose your client, provide your feed url. You will get a request from them on your messenger and you have to accept to start getting alerts.
One more facility with them is that you can make use of their widget [http://feedcrier.com/content/help/site-install/] and help your visitors to get sign up easily to your feed on messenger. Here is a snap of their widget.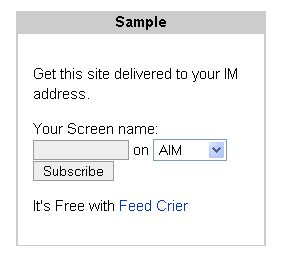 Update: Feedcrier does not load anymore.
People who liked this also read: