Written by
Pavan Kumar

on

December 22, 2008

Advertisements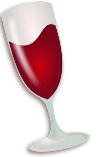 New Linux or Mac users will mostly find it difficult to use those operating systems. The sole reason behind this is windows addiction. We are all adjusted with Windows and it becomes a tough job to accept to the new foreign environment. That time you wish to have all windows softwares are available for Linux. Now, even you can run applicaitons of Windows on Linux, FreeBSD and also MAC.
Wine is a free program loader which does the job of running windows applications on Linux and Other POSIX compatible Operating Systems. Any Windows program running on Wine will act as native programs and will not result in reduced performance nor use any extra resources to run the applicaiton.
Though Wine is still under development and not ready for general public usage, people have already started using it and finding the right advantage of the software. On the official website of Wine, there is an application database which shows the compatibility of different windows based applications with Wine. There are few third party applications built on Wine and you can make use of them if Wine doesn't work for a particular application.
Currently Wine is available for download in these Operating Systems: Ubuntu, Debian, FreeBSD, Red Hat / CentOS / Fedora, SUSE, Mandriva, Slackware, PC-BSD, Solaris.
People who liked this also read: