Written by
Pavan Kumar

on

May 13, 2009

Advertisements

These days, almost all software applications are available on internet as Web 2.0 services. We have seen different services like online photoshop, online video audio extractor, online fun photo editor & effects and now, lets deal with online Powerpoint tool.

280 slides editor is a really cool web application to make free powerpoint presentations online. The tool almost replicates the desktop presentation software Microsoft Power Point. The options available with this tool are really good and will help you create colorful and creative presentations with decent backgrounds and sizzling effects on slide transitions.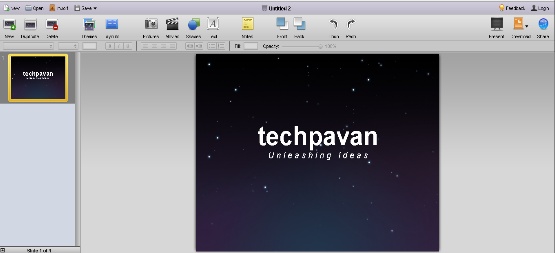 You can also include pictures, movies, text and others like you do in case of desktop presentation softwares. If you sign up for this and log in into the system, you can also save your presentations online. Without signing up to the system, you can download the slideshow presentations made online.
This applications supports download of formats like pptx (Power Point 2007), ppt (Power Point 97-2004), odp(Open Document), pdf(Portable Data Format). This tools also loads fast on a normal broadband connection and is really recommended if you are interested to make free online presentations online without need of powerpoint software on your system.
People who liked this also read: