Written by
Pavan Kumar

on

September 9, 2009

Advertisements

As popularity of Twitter is always raising, many of us use different Twitter clients. My favorite since the days I am using Twitter regularly is always TwitterFox as I don't want to run another software just to check/send tweets. Twitter Fox simply sleeps at the Firefox status bar and barks only when there is a tweet and I can check it out later.

Apart from updating interval limit (at least 3 minutes), I don't see any problem with it, but 3 minutes is quite ok for me. One more factor affecting me is that the TF window coincides with many other site interface which is not so friendly. If you have ever felt the same, here is the way to adjust the height and width of TwitterFox notification window on Firefox.

If you want to modify the same based on your requirements and needs, here is how to do it.

On FF address bar, type about:config click on I'll be careful, I promise button to enter the configuration screen.

In the filter section, type extensions.twitternotifier.windowWidth. Here you can modify the width of TwitterFox interface. Default: 320.

Next, type extensions.twitternotifier.windowHeight and edit the height of TF as per the needs. Default: 400.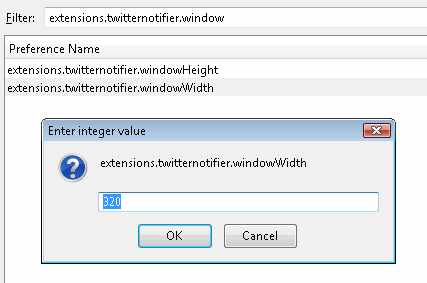 Note that the numbers 320 and 400 are in terms of pixels and the numbers you enter should be in terms of pixels.
Also read: Twitter reminder services, Find Twitter backlinks, Unblock Twitter proxies
People who liked this also read: