Written by
Pavan Kumar

on

March 7, 2009

Advertisements

Do you have a domain? If yes, I guess you have your own domain mail ids like you@domain.com, admin@domain.com, info@domain.com etc… But for some reason, you have forgot to setup a contact form on your website and someone wishing to contact you just sends a mail to contact@domain.com which later on will be returned with mailer daemon failure notice

.
Such things are not very common, but the chances do exist. I remember of reading some post in Matt Cutts' blog where he has discussed the way Google may contact webmasters. The mail ids of any domain starting with admin, webmaster, info, contact, support… are very important and they are the most preferred ids to contact. Google was on an experiment of alerting web owners about penalization and in such cases, they use ids like the ones discussed above.
Instead of creating all such mail ids, you can easily obtain all such mails into your primary mail box. Here is the way you can do it. I use Google Apps and this is very easy in this case. You need to login to the Google Apps account and goto Manage this domain, you can find it at the top right corner next to your mail id. You will now find the Service Settings as shown below.
Click on Email and you will be taken to Email Settings page. There you find Catch-all Address. Catch All address is the mail address which all non-existing TO address mails addressing your domain will move to, i.e., if you don't have a mail id like stupid@domain.com and someone sends an e-mail to that id, you will receive it on the mail id which you have set as Catch-All Address.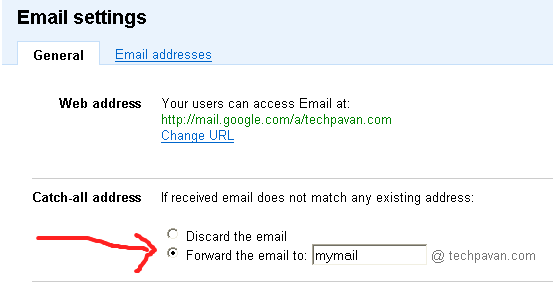 With usage of this setting you can setup only one mail id for the entire domain and still you will not miss any mails that address to a non existing id.
People who liked this also read: