Written by
Pavan Kumar

on

August 28, 2008

Advertisements

If you run a website or blog, it is most important for you to consider the marketing effectiveness of your site. Your site will be always attractive to advertisers if it has good ratings. These ratings include different rankings and other analytical results. It takes a good time and work to improve any site in terms of different ratings. Today I am discussing with such a nice tool which calculates the marketing effectiveness of your site.
The service under discussion is Website Grader. There are different tools available online for analysing your web site details and position. The importance of this lies in that it does not need your maid id for generating report. You may optionally provide your mail id if you want your report mailed.
These are the criteria which this service use to grade your website:
On Page SEO which includes metadata, heading summary, image summary and other details related with the webpage.
Off Page SEO which includes domain info, page rank, search engine index, traffic, links, directory listings…
Blog Analysis which mainly includes technorati ranking.
Social bookmarks on delicious and digg.
Feed and form analysis.
Finally, as I tested techpavan on that, I got a grade result of 88%.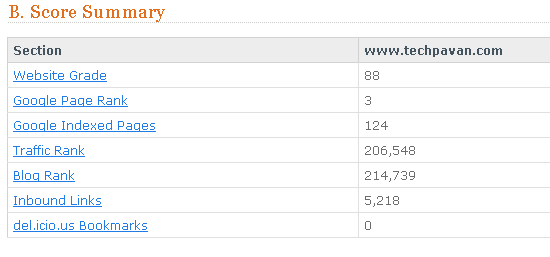 These are the other features with that service:
Compare your site with other competitive sites for better analysis.
Get monthly reports for your site analysis.
Put a badge on your site to show off your rating on website grader.
People who liked this also read: