Written by
Pavan Kumar

on

September 30, 2009

Advertisements

There are many questions which go around the mind of any person who have bought a new PC – be it a desktop or laptop, you will mostly have those questions which you feel shy to ask your expert friends. Those questions are regarding your hardware, if your vendor has provided the right hardware as given in invoice.

You will also have questions regarding the Operating System installed (mostly newbies), processor details, hard disk capacity, programs installed, memory size and speed, monitor resolution, printer features etc.

For very basic information about your system, you can refer to online system configuration service, but if more details about the computer/notebook is needed, SysSpec is the recommended tool.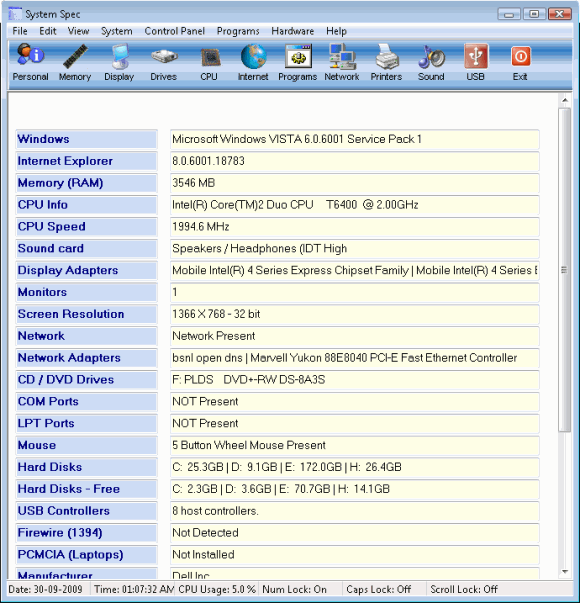 Sysspec though being a free and tiny tool (1.8MB) offers a lot of details you might need to know about your system. The main categories of information it can display include personal user details (also includes Windows CD key, OS build, installation date etc), memory, display, hard drives, optical drives, processor (CPU), internet, installed applications, network, printers, audio devices and USB ports and devices. These information provided by this tool is enough to understand the detailed configuration in the computer.
This application works only for windows.
Also read: System guide for slow Windows XP, Java based compass for mobiles, Funny photo editor softwares, Mobile phone webcam softwares
People who liked this also read: