Written by
Pavan Kumar

on

July 18, 2009

Advertisements

Most of us use Twitter. Twitter these days is more a productive and marketing tool than just a chitchat platform. There are many twitter tools available online, few make it to a huge success and rest flop. Among these are some scam tools which just collect your login and password and shut down the next day once they reach the goal or resale the same after some promotion.

The latter is the reason, I don't try all the new available twitter tools, but just go with those which are trusted and those which does not ask for login credentials. One amongst them is the tool which provides you the age of a twitter profile. Do you remember when you joined twitter? I am sure the answer is NO for anyone, but here is the service which tells you how old are you on twitter.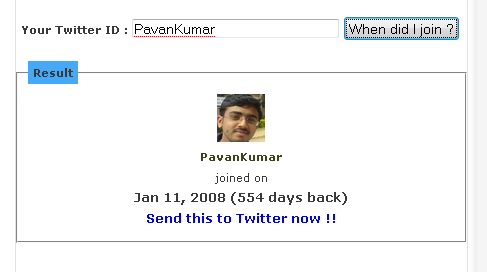 Here is an easy to use free twitter tool to know When did I join twitter? With this tool, you can know the age of any twitter profile as this does not require a login and password, just enter your twitter username and it displays your twitter age.
You may like: Find Twitter backlinks for website, Unblock Twitter with Twitter Proxies
People who liked this also read: