Written by
Pavan Kumar

on

December 23, 2008

Advertisements

If you are an active twitter user, you might have seen different people using different themes to customize their twitter profile. Even you might have wondered where to find such themes which simply look great and suit your taste. The simple answer behind all these is Twitter Gallery.
Twitter Gallery is a gallery of twitter themes and follow me buttons. The themes are categorized based on different topics. You can find themes related with Animals, Art, Bikes, Cars, Funny, Girls, Movies, Music, Nature, Technology. As per the current date, it has around 50 themes. So, I don't think you will need to search more to find the theme which is best fit for your profile.
If you look around the blogosphere, you can find different people using different follow-me buttons to ask readers to follow them. If you are a blogger / website owner, you can even get beautiful follow me button here. Even the follow me buttons are found in a very good number. You can pick the one you like and the one which suits your theme.
About the theme installation, you can install the theme manually or automatically. If you don't want to hand over your login details to the system, they will provide you with enough instructions to install the theme.
Here are few themes for example: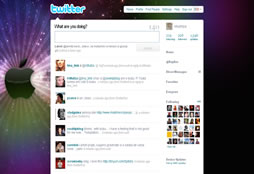 People who liked this also read: