Written by
Pavan Kumar

on

May 13, 2009

Advertisements

There are different variances of the error "Generic Host Process for Win32 Services" and the one I am dealing with is the problem of Vishal which was my problem when I started using my broadband connection. I was using BSNL broadband connected over DSL on my Windows XP system. There are loads of solutions for this, none of them worked for me. Here I am sharing the tool which worked for me and may be the same would be of help to anyone with same problem.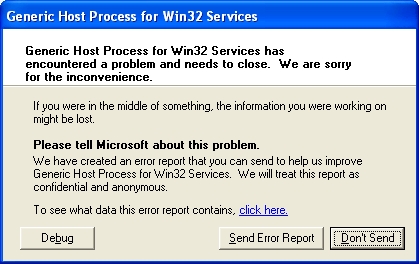 The problem with my computer was that whenever I connect my PC to internet (only broadband, this did not occur with dial up connection), after some time of say 15-20 minutes, and error would pop up stating that the Generic host services for win32 process encountered a problem and needs to close. We are sorry for the inconvinience. If you were in middle of something, the information you were working on might be lost. This had become a routine and after this, I needed to restart the computer to get connected to internet. Few said it is some problem with svchost. But note that it is not a virus.
Though I am not very much into technical aspects of this error, the solution to this was a small tool called Windows Worms Doors Cleaner. Download this 50kb application and fix your computer error. Happy browsing. If you find this solution to work, please share it with others who are in need.
People who liked this also read: