Written by
Pavan Kumar

on

May 19, 2009

Advertisements

Yes, already there has been a solution for Generic Host Process Windows Error. But, this Generic Host Process error is quite weird windows error and that solution did not work on my friend's PC recently. Looking at different solutions, I started Googling to get a right, proper, easy, working, quick solution. Finally I could figure out different solutions and here I am sharing them to help you readers.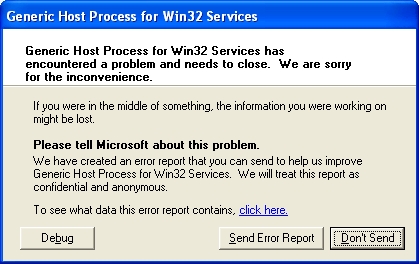 The error appears with this statement:
Generic Host Process for win32 Services has encountered a problem and needs to close. We are sorry for the inconvenience.
If you were in the middle of something, the information you were working on might be lost.
Later, you may send error report to Microsoft or not.
In my case, the error was with broadband connection, but in case of my friend, it was some problem related with the printer. Also, some related problem with the email messages. I am not much clear about the exact problem caused, but here are the solutions which worked for him.
Solution 1:
Open Registry Editor (Winkey+R > Type regedit > OK). Browse to HKEY_LOCAL_MACHINE and move to System, then navigate to Services, then to Browser followed by Parameters. There you will find a String Value called IsDomainMaster, if the value is True, change it to False by right click > Modify. If the String Value IsDomainMaster does not exist, please create one by right click > New > String Value.
Solution 2:
This is a solution where you will follow the instructions as provided in the image above. To enter to dos, WinKey + R > Type cmd > OK.
Both above solutions require your system to be restarted.
People who liked this also read: