Written by
Pavan Kumar

on

December 1, 2008

Advertisements

It is very common these days on my ISP that yahoo mail does not load. On every login, you will be lead to a page which reads – "Ooops. Yahoo! Mail can't load" Loading Yahoo! Mail failed due to a client side error. The message will instruct you to try clearing browser cache, cookies and as a final way, you will be asked to use Yahoo Mail Classic – the old version which most of you have forgot. Even I get this error a lot of times and here is the very simple way I work out for this.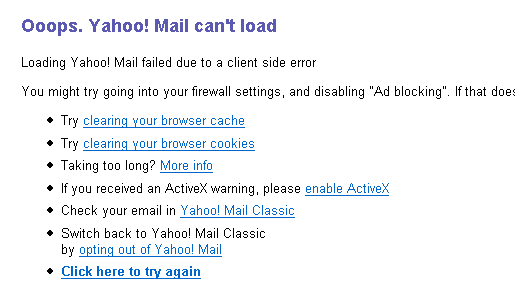 Looking for great solution steps? Nothing like that, simply change the DNS you use to OpenDNS or any other free DNS server. If you are not aware of changing DNS, follow the tutorial for blocked youtube case.
FYI, the DNS server address you have to use in case of OpenDNS:
Preferred : 208.67.222.222
Alternate : 208.67.220.220
Note: There are also complaints that such error occurs in Firefox browser and is not present in Internet Explorer or Google Chrome.
People who liked this also read: