Written by
Pavan Kumar

on

November 27, 2008

Advertisements

UPDATE: Plugin author Brendon has fixed the bug and there is no need to edit the plugin file in future releases.
---
Stumble for wordpress is one of the plugins I liked and blogged about. It did its job pretty well by improving the traffic and also kept the visitor engaged on my site providing other page which he may like to read. Recently I noticed a negative impact in using that plugin which I am sharing now so as to help fellow bloggers who use that plugin.
Have a look at the screenshot taken from google search page and you will notice what I meant. As google crawls all my pages, it also crawls the link at Liked This Article? Read another similar article button. And you might have noticed that by clicking that button you will be lead to a random post which is related to the content of the page you are viewing. But in all cases the resulting page is not the same. It is randomly picked mostly from the top pages / posts among related posts.
It has been long since I am using the plugin and google has already changed its index with all dirty stumble links. Take the example http://www.techpavan.com/?stumble=295. Click on the link twice, and you will see that both are different pages.
What is the impact?
This definitely creates an ill result on organic traffic. But Google search results are not affected in my experience. Google search results will lead to individual posts and those links are normal and not have been changed. Along with them there are links which seem to result the same page like the ones shown in the image. This leads to duplicate content 👿 , Google may feel that I have duplicate content on two pages of my blog. This is very bad taking SEO into consideration.
Bad user experience:
I get a good number of visitors from Google Image Search. And I have observed the same kind of stumbling (?) carried out on my image page locations too. When someone clicks on a particular image on the image results, he has to be lead to the page which contains that image, but the result is "stumbled" and user obviously feels my site as BAD and closes the tab, say you search for iphone stone, how do you feel if I take you to pen drive ram post? – I lost my valuable visitor.
Solution: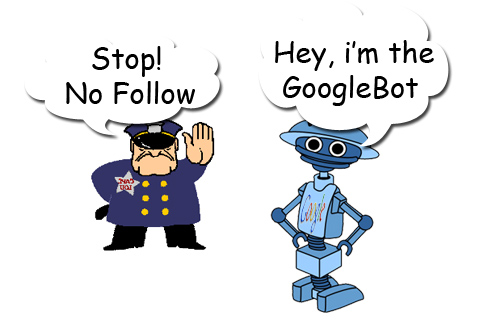 NOFOLLOW: This is the solution I thought of to get things done now. I did not want to remove the plugin and lose the hits generated by it. I recommend developers to think of this serious issue and include this fix in coming updates. Here is the solution to all who are using the plugin.
Open WP-Admin > Plugin Editor > Open Stumble-for-wordpress/stumble.php
Navigate to function _stumble_auto – better use Find [Ctrl+F] feature in firefox.
Locate the $button='<div ……….. code, its easy to locate, don't worry. It is followed by the anchor to which we are going to add the nofollow tag. If you don't know how to add nofollow tag, follow this procedure:
The code <a href="http://www.techpavan.com">Pavan's blog</a> when crawled by search engines is considered as link.
But, <a href="http://www.techpavan.com" rel="nofollow">Pavan's blog</a> is crawled by search engines and is NOT considered as link, its simple text (Pavan's blog) for search engines.
Here is a screenshot of the plugin code section where you have to edit: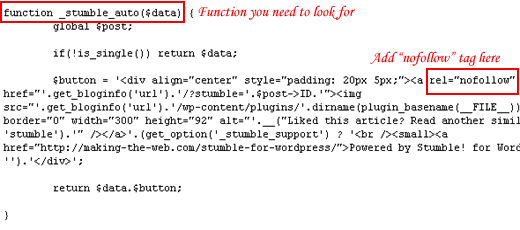 People who liked this also read: