Written by
Pavan Kumar

on

May 30, 2009

Advertisements

WordPress users at some point might require their sidebars with difference on different pages. If you have used Top Commentators plugin, it has an option to display only on home page or on all pages. Such feature is what few of you might have thought to have on all widgets, but could not sort it out. There are many advantages in such customizations and you will make it out here.

If you have browsed my blog, you might have observed different widgets on sidebars on posts page and other pages. The difference between them on my blog lies in the fact that my home page / archives / search results page will display only limited number of links to posts with a small extract of description which mostly varies from 3-4 lines. This makes the page to be of low length. In case of single posts, due to my nature of writing long posts, including related posts, comments and other reasons, the page is usually lengthy making it look blank in sidebar.

I make use of that unused space with ads and I don't want them to be displayed on home or archive affecting the page appearance, so they only appear on single posts as widgets.

If you are interested to try out such an interesting feature, its all because of a plugin which features the customization of widgets on wordpress sidebar. It is Widget Context which brings such a great customization of sidebar widgets.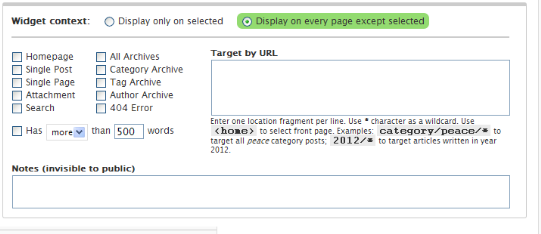 Have a look into the options available on the widget appearance. It has so many attributes for everything, that even my theme does not have that number of features 😉 . You can actually set if you want to display the widget on only some page / if you want to display on all pages except only one. Likely it is for category, tag, year, author archive, all archives, homepage, single post, single page etc.
You can use the same to display the posts of high importance / which are high paying, but not getting much traffic / those which you want to bring to first page of Google from second or you can use it for any purpose, may it be SEO or just distributing traffic, also may be some referral offers. The plugin is also available for WordPress 2.8+ versions.
Are you using Contact form 7? Remove it to optimize performance of WordPress.
People who liked this also read: