Written by
Pavan Kumar

on

March 4, 2008

Advertisements

I have written a quite long post regarding recent updates on orkut. This is an update which I could observe after I published that post.

Sponsored listings:

I just had said that orkut has started using sponsored links but I did not have a snap of such a rare page at that time. Now here I am providing a snap of that. It was found when I searched under communities. My search term was "RSS SMS". No, results could be found for that query and these sponsored links came up.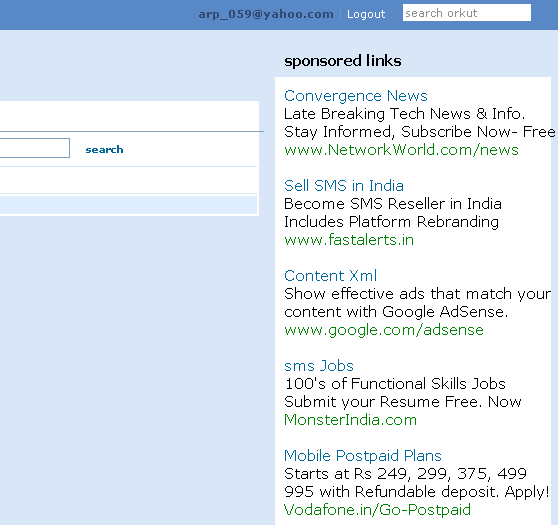 Feed for orkut:
I had mentioned about feed for scrapbook. And now, orkutfeeds has updated its service to provide feeds for any page on orkut. Yes, you can get feeds of any forum, forum message or anything you want, just you need to enter the complete orkut url in the field provided on the page. Its even more fun !
Orkut bug fixed:
This was that orkut update for which I provided the most priority in my previous post. The very next day after I posted about the bug, I found that orkut has fixed that issue and orkut was asking capcha verification even for google urls.
People who liked this also read: