Written by
Pavan Kumar

on

June 20, 2010

Advertisements

If you are a webmaster who has hopped web hosting among different providers, I am sure you have observed the slight dip in traffic for one / two days when the website move is done. This is because it can take upto 36-72 hours for all domain name system servers (DNS) to propagate. The problem is more if you delete the files in your old host or there is some database connection issues with older host after you moved.

I recently found a way which can help you to some extent to bring your visitors to new location and show them all new content on your website. This also ensures that you don't work anymore on your older host and lose data after some time. The solution is OpenDNS CacheCheck.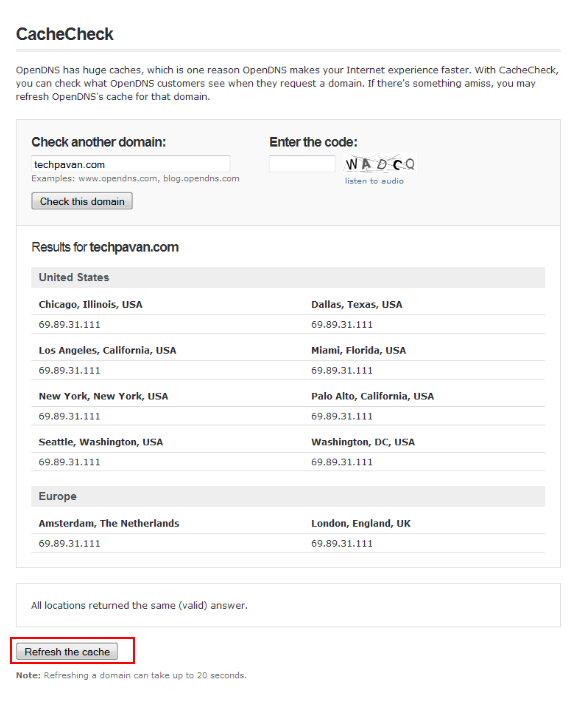 CacheCheck is an OpenDNS support tool which helps you check the IP address for a particular website on their different servers. You can verify here if your websites are properly resolved by OpenDNS. If you find any problem, they can refresh the same within a maximum of 20 seconds. If you are moving a website, here is what you need to do:
Transfer all your website content (files, database etc) and make sure everything is fine on the new hosting environment.
Change the nameservers on your domain registrar.
Goto CacheCheck page, enter the domain name you just moved, scroll down and click "Refresh the cache".
This refreshes the data on their servers resulting in your domain resolution to the new address. Though this change is reflected only for OpenDNS users, you should not forget that millions of internet savvy people are using OpenDNS and their number is a considerable count.
Also read: Get all domain mails into one inbox
People who liked this also read: