Written by
Pavan Kumar

on

September 23, 2009

Advertisements

Few people have affinity towards flash based services as they are attractive and interactive. I already have written a post on converting world time zones, but this post is dedicated to only flash based services which are used to convert time among various time zones. These flash based time zone converters are helpful to find time and date of any part of the world instantly without querying anything. Just hover the mouse and get the result.
1. Time Ticker time zone converter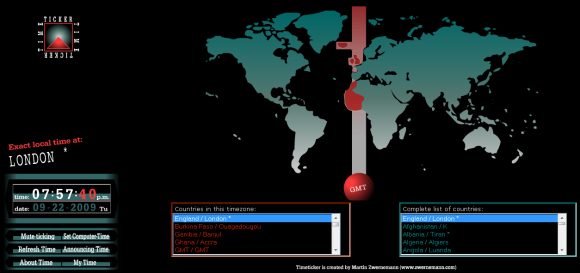 This is the most attractive flash based time zone conversion website which also is comparatively speed in loading and offers attractive interface with ticking sound of clock. This can also help you set your computer time if you are on IE. Try this free time zone service here.
2. 24 Time Zones – Time zone time lookup – World time map & clock
This is another flash based current world time lookup service which helps you know the real time local time in various parts of the world. If you click on each time zone, you will be redirected to a page with more details such as Daylight Savings Time (DST) and latitudes & longitudes of the region. Visit 24timezones.
3. Time Zone Check – Timezone Map
Visiting this page will bring major cities and their local times infront of you. If you want to know the local time of any particular region, hover on it on the world map and you will notice the place and its current time on the top of the screen.
Also read: Anonymous free online chatting, Download blocked torrents in office/school, Twitter proxy services
People who liked this also read: