Written by
Pavan Kumar

on

August 18, 2009

Advertisements

It happens many times for us. Those who live with internet and connect with people all over the world / make business in different regions around the globe often get confused when it comes to the matter of time in the required time zone. This is the reason, many professionals / corporates use multiple clocks to identify the time in the other region.

If you wonder how to do it easily, here are the ways you can get to know the time in other time zone.
Google – Current Time Across the World
If you want to know time of any specific zone, enter the time zone place / any major city nearby followed by the word time and Google instantly shows you the right time at that place at the moment. You may also enter the country name as place. Ex: New York time, USA time, Bangalore time etc. If you use US or such major countries with multiple time zones, all time zones will be listed as a result of your query.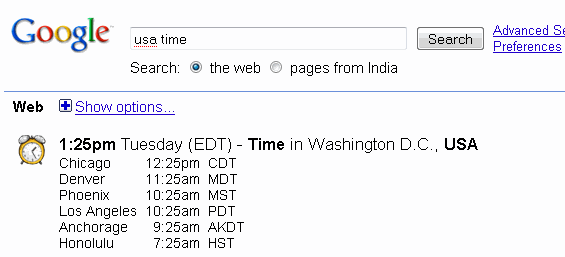 Time and Date – Time Zone Converter
This is when you want to see what clock points in other time zone time at some future or past date/time. Like "What date and time would it be in New York when it is 5pm on 20th August 2009 in India?" In such cases, Google won't help you find the time, also manual calculations would not work every time due to daylight savings etc. You can access the time conversion tool here.
Time and Date – Fixed Date and Time Conversion
This is the best option if you do an online or international business and would like to inform all your clients about some important issue, you can show the exact time in every time zone. Here you can make a world clock for a fixed date/time and share the link with anyone. Adsense usually sends mails regarding outage in their time zone and it is tough for everyone to know what would be the time equivalent in our time zone. Ex: "I would like to inform all customers of my web hosting service based at Bangalore, India regarding a scheduled maintenance 21st August at 6am". This would be a better idea if you speak with them in their language – their time zone. Try the fixed time tool.
Also read: How to change Windows time format?
People who liked this also read: