Written by
Pavan Kumar

on

July 1, 2009

Advertisements

Before writing on how to remove multiple folders from picasa, I would like to alert you an important information about picasa.
New users assume that Picasa grabs all images on hard disk by itself and saves in its own space. But the fact is that it just monitors all images and stores their locations in it – grabs the original images and display. If you think your images are safe at Picasa tool and delete it from hard disk, you will be lost of those worthy images. Don't delete images from HDD.
OK, coming to reason why would someone like to remove folders from Picasa – These days users have huge hard disks and store almost everything in computer itself – the days of CDs and DVDs is gone for local storage. And we keep our confidential images of high priority or personal photos or private pictures in our hard disk and we never wish others to see it when they start Picasa. These reasons may vary for different type of users, but if you want to remove number of folders, follow the tip here.
So, if you want to remove only one folder, you can do it by right clicking on the folder and click "Remove from Picasa".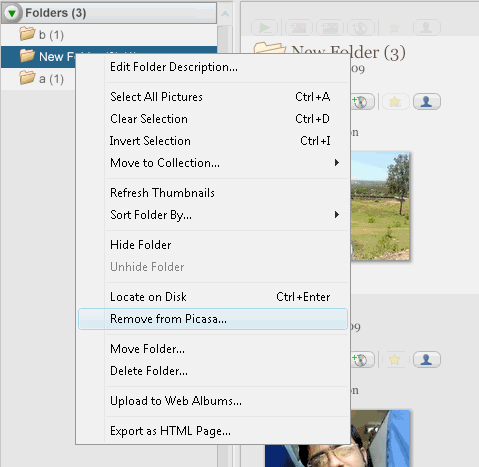 Sometimes, you will need to remove multiple image folder which takes a lot time – you cannot try right clicking, also selecting multiple folders is not possible. Here is how to tackle it.
On your Picasa interface, click Tools > Folder Manager.
Here you are displayed with a folder browser where you can decide which folder should be browsed or removed.
Select the folder which you want to be removed, click on Remove from Picasa radio button at the right. Click ok.
You have to note that this process will not delete any images from HDD, it just excludes from Picasa. This follows the normal rule that if you exclude a directory, all sub directories are automatically excluded – you can later include only the sub directory you need.
Other interesting digital imaging solutions: Fun Photo Editor, Multiple Image Resizer
People who liked this also read: