Written by
Pavan Kumar

on

February 28, 2009

Advertisements

It gives me a pleasure to announce that the contest has run to a satisfactory extent. Here I have the list of 10 winners who have made to the top of the list provided by random.org. The list was made of top 30 people who have contested. As all feed e-mail subscribers were also included in the post, most of them were the contestants with 5 tickets. The list was sorted based on tickets as first priority and then by alphabetical order when there is a clash in tickets earned and submitted to list randomizer and following below are the 10 lucky winners of the contest.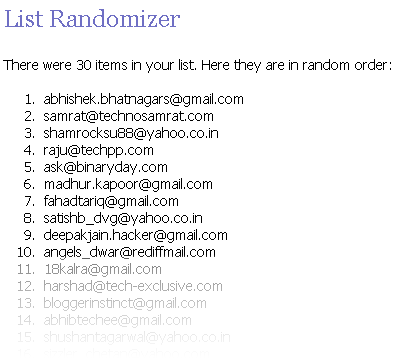 I have mailed each of the winner personally about the steps to be followed to claim the prizes. The prize will be one gold version of Fast Blog Finder software and one campaign upgrade for Fast Directory Submitter. More information here. The prizes are very good softwares and you find the trial versions are also very much useful for building quality links.
Congrats to all winners, and thanks to G Lock Software for their kind support to organize this contest.
People who liked this also read: