Written by
Pavan Kumar

on

February 9, 2009

Advertisements

It was February 09, 2008, the first post on this blog got published. And today is the day I have to celebrate the first birthday of this blog. But I am not so lucky to enjoy this moment. Currently I am not on my desk and this post is being scheduled to get published at proper time. The one year blogging journey was very good for me. I started blogging here as a student and recently I completed engineering. I have been recruited for an Inidan MNC and looking forward to join them soon. The company is arranging a meet for all recruits and that is the reason, I have to schedule the post rather then publishing. I would like to thank all friends, readers and visitors for my success online. It is a matter of pride for me and hence here we have small gifts for our readers.
On account of the first birthday, we have our sponsor G-Lock Software bringing to you with great chances to win wonderful SEO softwares. If you have taken care to build backlinks, then I hope you know these awesome softwares. The total number of winners will be 10 in this grand contest and each winner will get Fast Blog Finder and Fast Directory Submitter which have been reviewed below.
Fast Blog Finder:
If you are serious on web, you will have thought of backlinks. Backlink building becomes an important part of SEO and it is not an easy task to build backlinks. These days, everyone is using nofollow tags for wherever you can get backlinks. Most of the blogs use nofollow tag for comment section, it is even default in wordpress that all comments have nofollow links.
This Fast blog finder tool is used to hunt for blogs which does not make use of nofollow tag.
You can search for the blog with your keywords. This tool lists all pages in order and also displays different factors related with the search result page. The result will be the exact page but not simply blog url and hence you don't need to bother about navigating inside the blog. The result will be available with these informations : Domain PR, Page PR, Outgoing links on the page, Comment section of type – Nofollow, Dofollow. Also, you can sort the url list based on all these parameters listed above.
The software has an internal browser from which you can post comments onto blog posts. You don't need to open the links in your browser, it speeds up your blog commenting process. You can also make your lists into convenient folders and sub folders, you can check the pages with moderated comments again after some time by saving the results this way. There is an options to add user comments for follow up.
You can make a fully customized search (say, you want blog posts with domain PR=5, page PR=3, Dofollow comment type and keyword "SEO") and also can export the list for further usage or reports.
Trial version can provide you a list of 50 blog urls. Cost of the software Gold Version: $49
Fast Directory Submitter:
This is another wonderful SEO tool. There are many directory submitter tools, but this stands first of all and will speed up your directory submission process double the time which you have experienced with other tools.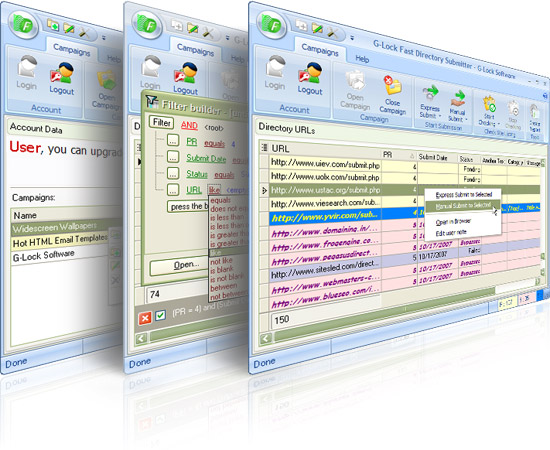 It is very commonly seen on the internet Automatic = spam. Most of the semi automatic tools just work like form loading tools, but this one is entirely different. It supports multiple title and description which makes your submission with multiple keywords and descriptions which helps you more in SEO. You can choose between manual and automatic submissions and it automatically loads the data randomly from your pre set list. In both the ways, you need to enter the captcha which makes you sure that directory owners can never treat you as spam.
Like in fast blog finder, here also you can sort the directory list based on PR and submit to high PR directories first. It also has checking tool which automatically checks the listing approval of your submission. You can again check the listing after fine sorting of the directory list. You can again submit to failed directories again.
This software also has report making tool with which you can create professional reports if you are working for a client.
Free campaigns can submit your listing to 150 direcotries. Upgraded campaigns can submit to 3341 directories currently. Upgrade campaign price per campaign: $20
Contest Details:
This contest will run for 15 days starting from 9th Feb till 24th Feb 0000hrs IST. It is based on tickets and the top 30 ticket holders will be considered for a draw with random.org's list randomizer. In case of clash in number of tickets of 30th person, they will be included overriding top 30 rule. The tickets can be earned in this fashion.
1. Blog review of featured products – 30 tickets for each product. If you have already reviewed them, no need to go with another review.
2. Write about this contest – 15 tickets.
3. Stumble for any of my posts you like – 10 tickets. There is no restriction for you. You can stumble any post you "like". Please have a look at my different posts from popular / featured list. Stumble the posts which are useful for you. Don't stumble this one 😉 .
4. Stumble the home page of the above featured products – 10 tickets for each.
5. Tweet about this contest – 5 tickets.
6. Tweet about the products – 5 tickets.
7. Use the trial versions of these products and share your experience in comment – 5 tickets.
8. Adding this blog as favorite on technorati – 5 tickets.
9. Subscribing through email – 5 tickets. Current subscribers will automatically be included into contest.
10. Finally, the most important. You have to share blog post url / stumble url + username / twitter url / technorati username. If you are using 6th point, you HAVE TO combine 9th and 10th.
You will be disqualified for:
1. Posting multiple comments.
2. Posting with different mail id / url / multiple profiles in stumbleupon / twitter.
3. Using Keywords in comment section for your name. If you are "XYZ", use "XYZ", but not "SEO Service".
Note: I may not get chance to come online for 2 days, if you are new here, your comment will be held for moderation, please don't post multiple comments.
The prices as told above will include gold version of fast blog finder worth $49 and one campaign upgrade worth $20. 10 winners will get them bringing the total contest to $690. Winners will be contacted personally and announced here on this blog.
Thanks to G-Lock Software and all the best for competitors.
People who liked this also read: