Written by
Pavan Kumar

on

January 6, 2009

Advertisements

As this blog deals with maximum tech stuffs, the more readers are coming from similar background and I guess most of you have used scientific calculators. Scientific calculator is an advanced calculator which is mainly used to solve advanced problems in Physics, Mathematics and Engineering. Every engineer will have used scientific calculator during the educational career. These days graphing calculators have replaced scientific ones in most of the areas of usage because of their added features.

Today, I am bringing in front of you a web2.0 scientific calculator – web2.0calc. It is a scientific notation calculator as well as a scientific graphing calculator. It supports most of the (may be all) operations available on a normal scientific calculator. It also has a special feature of memory / history. You can also use it as a graphing calculator using the plot button at the right bottom corner. Friendly user interface is a pleasing feature. Here are few screenshots of it.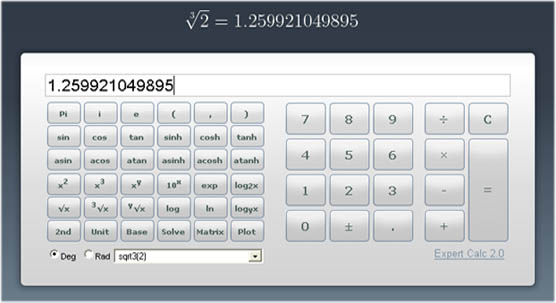 Supported Functions include: Standard Functions, Trigonometry, Complex Numbers, Units, Conversion, Vectors, Matrices, Graphs, Geometry, Statistics, Differentiation, Equations, Text, Number Theory, Functions, Variables, Precision.
People who liked this also read: