Written by
Pavan Kumar

on

March 1, 2008

Advertisements

If you don't know anything about the BugMeNot free service, you better read my previous post about that. In fact, that is the most popular post on this site which gets more hits from google.

Today, I have come up with a new firefox addon to make your browsing more easy. It is the firefox addon of BugMeNot free fake logins to bypass compulsory registration/ signup.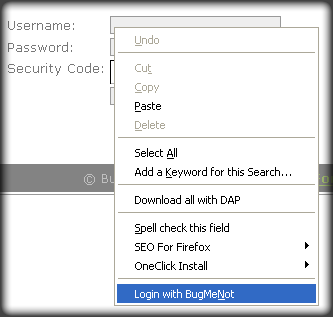 This cool extension is authored by Eric of erichamiter.com. As you all know about BugMeNot from my previous article, I don't think of any need to explain the service. I will move directly to the usage of this add-on.
Whenever, you come into a site where logging in is a must, you just need to right click on the user id or password field, and move your mouse and click on Login with BugMeNot and you are done!
The add-on will now search the BugMeNot site for all available fake accounts and logs you in using any of the account submitted by users.
What if no accounts are found? An alert will be popped to notify you that no accounts are found for that site.
Howz it? :mad2_ee:
You may download and install this firefox add-on here.
People who liked this also read: