Written by
Pavan Kumar

on

August 1, 2009

Advertisements

Tomorrow, Sunday, the 2nd of August 2009 is the most celebrated Friendship Day. Friendship Day is the most celebrated day all over and is much a lot popular than Mother's Day and Father's Day. Everyone of us have tens to hundreds of friends and wishing the ones who love and care for us is our duty and responsibility. Like I share interesting text messages, here are the friendship day messages which you can share with anyone – sms / text it, use as quotes, tweet it or whatever, they are all shared by lots of friends like you.
Happy Friendship Day to all readers of TechPavan, all my online friends and each and every follower of mine on Twitter.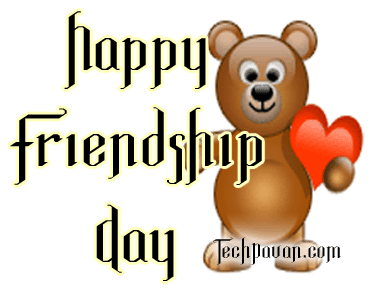 Emotional Friendship Day SMS
FEW RELATIONS IN EARTH NEVER DIE..
Take first letter from each word of the above said statement & then u will get that unique word…
FRIEND :=)
Happy Friendship Day
Friendship is the rainbow between two friends sharing of 7 feeling.. Help, sorrow, joy, truth, love, secret, faith = Friendship forever
Happy friendship day
If I could pull down the rainbow, I would write ur name with it & put it back in the sky to let everybody know how colorful my life is with a friend like you!!
HAPPY FRIENDSHIP DAY!
You are a friend with a heart of gold..
How much you mean to me can never be told..
You are someone so sweet n true..
One in a million n that's only you..
HAPPY FRIENDSHIP DAY
HAPPY FRIENSHIP DAY."
Developing '100 friends' in 1 year is not a gain,
'But keeping '1 friend' for 100 year is an achievement, That is friendship…!
Friendship is High Like Skies
Deep Like Oceans
Strong Like Iron,
Soft Like Cotton,
Cute Like Me
Sweet Like You
Happy Friendship Day
Longest is mother's Love
Shorttest is other's Love
Sweetest is Lover's Love
But "Strongest" is friend's Love
Wish U Happy friendship Day
If someone ask me what is life I would sit next to and put my arm around you and proudly say that this is my life. Thank you for being my friend
Happy friendship day
Happiness keeps you sweet
Trials makes you glowing &
God keeps you going
HAPPY FRIENDSHIP DAY
A Friend means
Someone we MISS
Someone we CARE
Someone we NEED
Someone we LOVE
Someone TRUE
Someone SPECIAL
& THATS YOU!
HAPPY FRIENDSHIP DAY.
Friendship is a One Way Road to be Travelled by Two with Hand in Hand- To Care, To Share, To Forgive & To Love. "HAPPY FRIENDSHIP DAY"
Weekly 1 day HOLIDAY.
Monthly 1 day SALARY DAY.
Yearly 1 day BIRTHDAY.
Lifely 1 day DEATHDAY.
But sharing my FRIENDSHIP every day.
HAPPY FRIENDSHIP DAY
Don't Judge your Friends by the way they Speak, Judge them by the way they care Because Care is Outcome of True Love in Friendship.
HAPPY FRIENDSHIP DAY
Life starts with violence but ends with silence.Love starts with fear but ends with tear.
Friendship starts however but ends never.
Friendship Day Wishes
The relation between one heart & another heart Is called love
But the relation between heart & heartbeat is called Friendship
Wish You Happy Friendship Day
Seconds of introduction. Minutes of discussion.Hours of attraction.Days of interaction.Years of satisfaction makes FRIENDSHIP a strong construction.
Happy Friendship Day
Carry A Heart that Never Hates
Carry a Smile that Never Fades
Carry a Touch that never Hurts
Carry a Friendship that Never Fails!! .
A Cheerful Morning To You! .
Have A BLESSED DAY!
Silly Friendship Day Text Messages
one day LOVE asked FRIENDSHIP "why are you in this world when I'm here?" FRIENDSHIP replied "To spread smiles whenever you leave tears…"
Happy Friendship Day
No Archies Card to Give……
No Sweet flowers to send…..
No Cute Graphics to Forward……
Just a caring HEART saying…..
"HAPPY FRIENDSHIP DAY"
Small angry
Silly fights
Simple sms
Serious jokes
Sensitive feelings
Senseless speak
Mixture Of All d Above Is Called FRIENDSHIP
Happy Friendship Day
1 day Monday went 2 Tuesday 2 see Wednesday & ask Thursday whether Friday has told Saturday that 'SUNDAY' is FRIENDSHIP DAY!
Friendship Day wishes from your sweet friend 🙂
'FRIENDSHIP'
Just 1 Word.
But It Takes
1 Sec 2 Read,
1 Min 2 Think,
1 Hour 2 Explain,
1 Day 2 Feel,
1 Week 2 Demonstrate &
1 Life 2 Prove !
Friendship Day Wishes from a sweet friend
1 + 1
is Two
My frndship
is True
2 + 2
is Four
my frndship
is more
3 + 3
is Six
My frndship
is Fix
4 + 4
is Eight
My friend
is Great
happy friendship day
Trin Trin..
Paper Paper..
"TIMES OF FRIENDSHIP"
Head Lines : "HAPPY FRIENDSHIP DAY"
Tie this to your hand
◄◄◄◄◄◄◄◄Pavan►►►►►►►►
I am the first to wish you
Happy Friendship Day
Funny Friendship Day SMS
I want you to know that our friendship means a lot to me. You cry, I cry. You laugh.. I laugh. You jump out of d window.. I look down, then……. I laugh again.. hahaha
Happy Friendship day !!
I dropped a penny in the sea and prayed for a smart and intelligent friend. Then God gifted me you & said
This is what you get for just a penny 😉
Happy friendship day 😛
"Love" is a big fire…
Which burns all the days of life.
But
"Friendship" is a small lamp…
Which brightens till last day of life.
Good to have a friend like you
Who Is A Frind?
A Push When U r Stopped
A Touch When U r Lost
A Word When U r Quiet
A Smile When U r Sad
A Shoulder When U Cry
A Restart When Bluescreen
Wish U Happy Friendship Day
Today's newspaper is Tomorrow's waste paper..
Life is a test paper, friendship is the best paper…
Don't waste it like a tissue paper…….
Wish you happy friendship day
One day my brain ask me,
Why are you sending message to that person,who is not messaging you?
But my little heart said to brain,
You need message but i need friendship!
Happy friendship day
Friends are like walls of a house, sometimes they hold you up, sometimes, you lean on them. But sometimes, it is enough to know that they are just standing by you.
Happy Friendship day:)
True friends are those who, When you make a fool of yourself, Don't believe that this condition is permanent.
Happy Friendship Day
Hindi Friendship Day SMS
God apun se poochha,
Kidhar jane ko mangta,
Swarg ya narak,
Apun bola narak,
Kyuki apun ko malum hai,
Tum sala dost log,
Wahin Milega,
Aur DOST jaha
Apun Ka swarg Waha..!!
*HAPPY FRIENDSHIP DAY*
"HAPPY FRIENDSHIP DAY"
bcoz Kabirji ne kaha tha-'Kal kare so aaj kar, aaj kare so ab, network fail ho jayega,wish karoge kab?'
wishing you sab se pahele.
Hum Aap Ke Dil Me Rahte Hein,
Har Dard Ko Hans-Hans Ke Sehte Hein,
Koyi Humse Pehle Wish Na Karde,
Iss Liye Ak Din Pehle Hi Hum Ap Ko,
"HAPPY FRIENDSHIP DAY"Kehte Hein,
.—,!"""""""""""""""""!
| – ,! Choclates, .! !
"-O-'"""'"""""""""O'O"
This choclates truck 4u.
Advance me kuch meetha ho jaye.
"HaPpy FrIEndShIP DaY"
Jivan Me Khushi Hazar, Kabhi Khushi Kabhi Gum ki Maar,Duwa Hai Rub Se,Hamesha Milta Rahe Pyaar Aap Subse. HAPPY FRIENDSHIP DAY
Phoolon se hasna
jhulon me jhulna
koi doosra dost mile
to hame na bhoolna
kyunki dosti ek afsana hai
bhool gaye to sapna hai
yaad kiya to apna hai.
Happy friendship day
ASMAAN HUMSE NARAAZ HAI,
TAARON KA GUSSA BEHISAAB HAI,
VO SAB HUMSE JALTE HAI,
KYOUNKI CHAAND SE BEHTAR DOST HUMARE PAAS HAI,
HAPPY FRIENDSHIP DAY.
People who liked this also read: