Written by
Pavan Kumar

on

March 18, 2009

Advertisements

If you have ever wanted to download a series of rapidshare files, you probably might have used notepad to keep all files to be written on a list and download one after the other in a line. Such all useless notepad rapidshare download process should stop now – today's tool is here to help you download and queue all rapidshare files and having multiple impressive options to help users.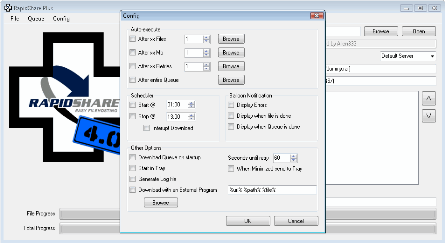 You might be aware of rapidshare file url checker tool and rapidshare file management tool. Coming to the tool, it is rapidshare plus which you can download from here. It is a freeware and has huge features and help you to make the download process easy and fast. Coming to the features, you are able to add / delete files to be downloaded at any point of time. It also supports linklist url – linklist url is a url which has multiple file download links on the same page. Its mostly the user created page on rapidshare. Paste urls into list, clear all, delete single url are other features which can be seen at the first look. You may also edit the queue to download files.
Apart from these overview features, you can also see some features on options tab. You may auto execute any program once a download is complete / when entire queue is completed. It is even possible to set a scheduler for downloading files. Balloon notification feature for completed files / queue. There are few more features like starting up with windows, start up download queue etc.
This is really a wonderful tool for free users and hence you may be benefitted with this great tool.
Also, download free books and songs.
People who liked this also read: