Written by
Pavan Kumar

on

March 17, 2009

Advertisements

Like any consumer electronic product, mobile phones too sometimes behave in an inappropriate way. Here we shall deal with how to test different services / components of a Sony Ericsson mobile phone. With this, you will be able to test different hardware components like Main Display, LED / Illumination, Keypad / Keyboard, Speaker, Earphone, Microphone, Vibrator, Camera, Flash LED, Memory Stick, FM Radio etc. This works for most of the handsets though I am unsure about the low end models.

There is one secret menu in the Sony Ericsson phone which most of the users are not aware of. It can be accessed with a serial key press in a specific order (secret code). Here we go:

Press > * < < * < * . If you cannot follow the symbols, please have a look at the following figure and you will understand.
Once you press this key sequence, you will be presented with a menu which has options like Service Info, Service Tests and Text Labels. Select Service Tests. Now you are up with the menu to test different components of your phone. Different components are tested different way and you will not find it difficult to carry over the process.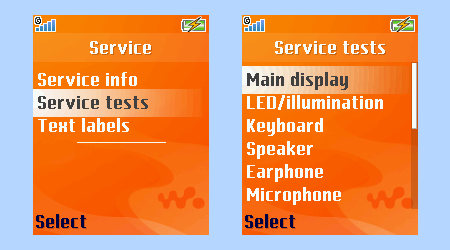 You may be interested to read mobile phone screen capture softwares.
People who liked this also read: