Written by
Pavan Kumar

on

April 2, 2009

Advertisements

There are many users who always look for latest working Rapidshare premium accounts' login and password, here I am sharing one easy and efficient way to get a free Rapidshare premium account as and when it is released for usage. Some people publish these free Rapidshare accounts in their blogs. This kind of free RS accounts available on internet can be easily tracked with the help of search engines and here is the How To for easy download premium accounts of Rapidshare.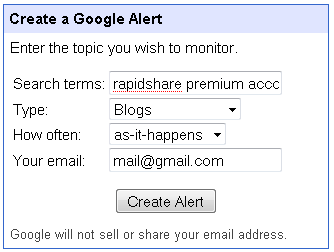 Rapidshare Premium Accounts with Google Alerts
Google Alerts: Go to Google Alerts page and key in related terms into search box, choose blogs and enter mail id. Confirm your mail id by clicking on the link you obtain on the mail – otherwise you will not be alerted on any update. Example of search terms include: Rapidshare Premium Accounts, Free Rapidshare Premium Account, Rapidshare Premium Login etc. These keywords will be searched by Google, when a new index record is available for that key term, you will get a mail into your mail id which means, any new rapidshare account available will be directly mailed to inbox and you can checkout the link to get your new working account.
You may also use Yahoo! Alerts for the same purpose.
Also, check free rapidshare premium account login trick with twitter.
Try out different Rapidshare tools and rapidshare tricks.
People who liked this also read: