Written by
Pavan Kumar

on

November 27, 2011

Advertisements

There might be multiple reasons you need to spoof the IP address / use proxy to browse the internet. Few of the most common reasons include accessing the blocked sites by your network administrator or you just do not want to disclose your identity. Though there are many proxy services available online, here is an interesting service which lets you browse websites with multiple ip address.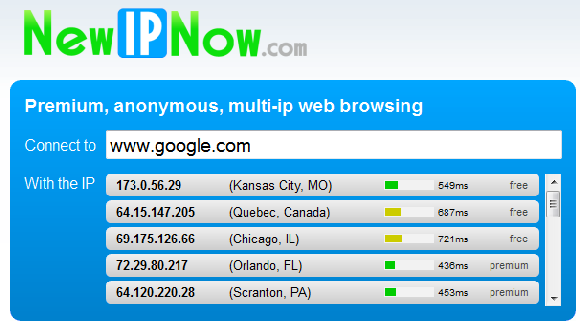 NewIPNow is the proxy service with a difference. You will be provided with a list of options to choose the IPs with which you want to browse. You can choose the IP to browse with based on the location or the latency. For a free browsing, 3 IPs will be provided, but premium users can get access to 16 IPs on the web interface. The advantages of these services is that you can access the websites which are available only for a specific location. Also you can view your website from different locations.
They also provide a Firefox addon for premium charges with which the users can get access to hundreds of proxies and the list is kept updated with IPs tested for performance in regular intervals. Based on the performance and geo requirements, users can easily switch between proxies with this addon instantly. This addon basically controls the firefox proxy setting based on your choice.
You may also choose from a list of proxies to hide your identity for browsing the internet.
People who liked this also read: