Written by
Pavan Kumar

on

July 4, 2011

Advertisements

One very important feature which Windows has never come up with – displaying the directory size on explorer and sorting according to folder size. This sometimes is a very important feature which can save a lot of time which we spend on viewing individual folder properties.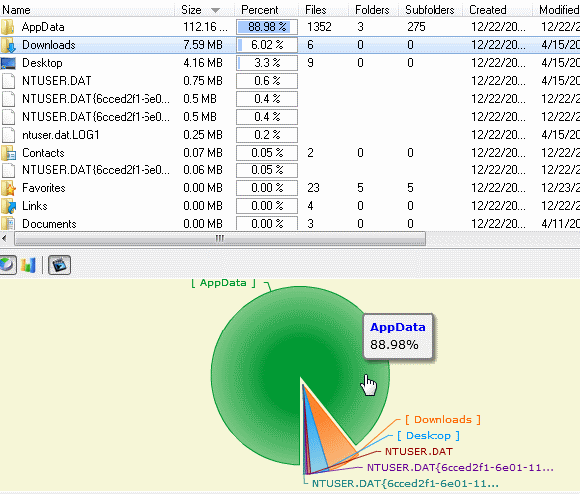 The most possible reason we check individual directory size is when we are running out of disk space and there is a need to clear off some unwanted data stored. Having every folder size information available can help in identifying the content which occupy most space and cleaning up the same.
Folder Size is a small free windows utility to check and compare folder size on any disk or directory. This tool can display the folder size, file size and the percentage of space occupied by it in the contained directory. On opening the tool, you need to choose the disk to scan and it will take some time based on the disk space. Once the scanning is complete, you will be able to see the folder and file size along with the percentage of space occupied. You can navigate to sub folders, open the folder in explorer, view properties and delete the folder or individual files.
There is a neat visual interface with an animated pie chart or bar chart of the folder space occupation. The application also has a context menu integration to help you in quick scanning any folder from the windows explorer. This also shows the number of files, folders and subfolders and you can navigate between them using normal back, forward and up one level buttons.
Note: Windows XP users can use Folder Size for Windows Explorer tool.
Also read: Compare folder contents, Show / hide hidden folders in Vista / Windows 7
People who liked this also read: